How to contact us:
Runlimited Timing LLC  is located in Fort Collins, Colorado. You can get in touch with us @:
EMAIL: info@runlimitedfc.com
or
EMAIL: john@runlimitedfc.com
PHONE: 970-231-2569
If you would like us to time your race or if you would like us to bid on your race, please contact John Lonsdale at the above email or phone number.
How to sign up to our web site:
Unfortunately we had to tighten our sign-up process a bit in order to avoid excessive spam from all over the world. The sign-up screen will ask you for an invitation code -> please use Horsetooth and you should be able to get your account in no time.
Who are we:
John Lonsdale
Runlimited LLC owner/operator John Lonsdale was also the original founder and owner of Foot of The Rockies, and has been part of the Fort Collins running scene for thirty five years. He is an avid marathoner, and has coached runners of all abilities. In March 2012 John sold Foot of the Rockies. He will now be putting all his energies into the Runlimited Timing business and being a new grandfather!
Pascal Monti di Sopra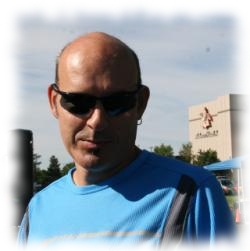 Pascal came on board as a member of Runlimited LLC in June of 2012.
Pascal is a telecom engineer for Hewlett Packard Enterprise. The love of his life is Nicole Hulliger. Between them they have 4 sons
Runlimited LLC is lucky to have Pascal as one of the company's members. He has at least doubled the proficiency of our timing.
Thanks to Pascal, Runlimited Timing now has a professional website (www.runlimitedfc.com) for the posting of upcoming events and results from races we have timed. Also, he has created an application for an android pad that gives race directors the option of reading race finishers off of the android pad!